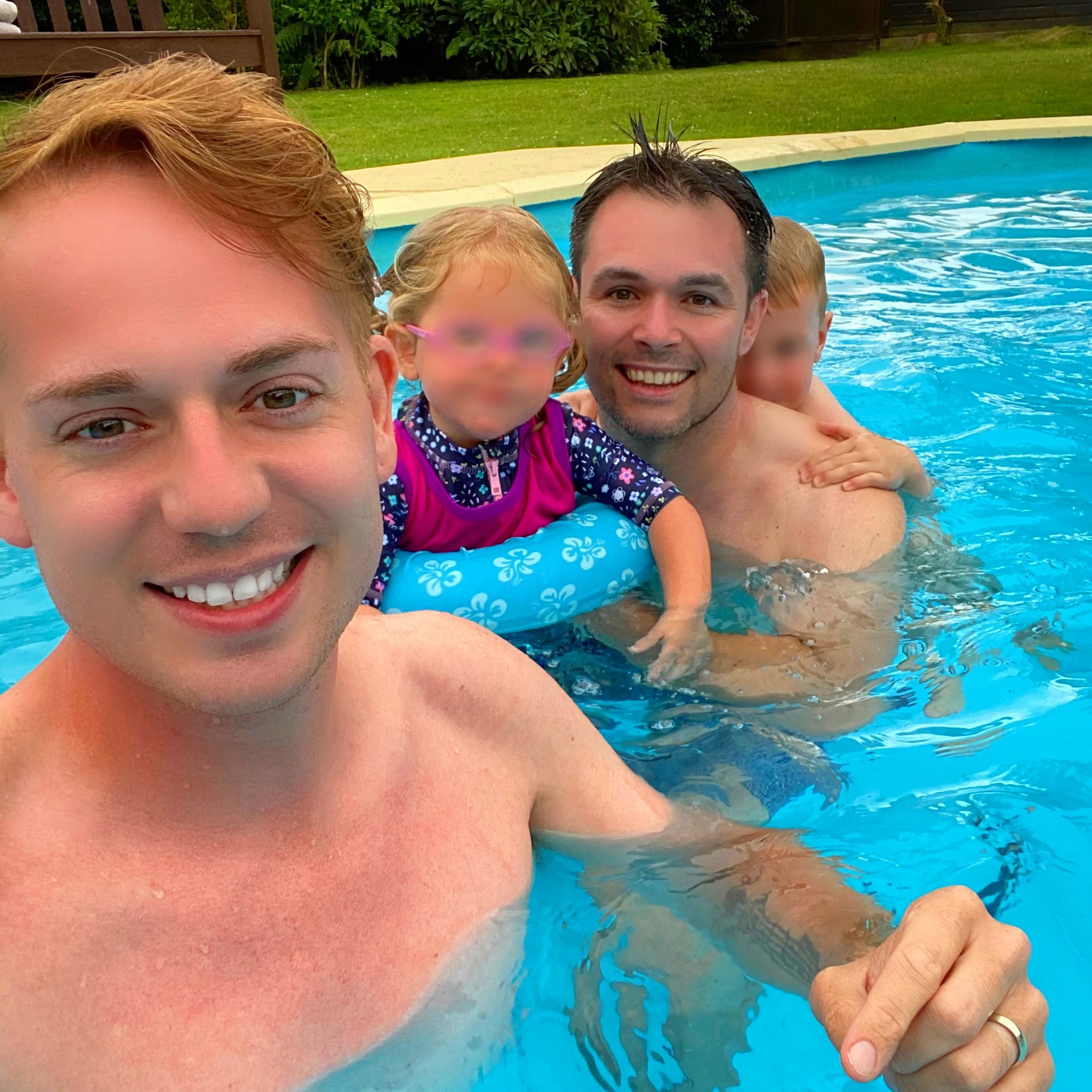 Norfolk Family Adventures
We decided last minute to book somewhere for a change of scenery and to completely relax away from work and after a lot of searching online, we managed to find the perfect place on Tripadvisor called Alderfen View which to be honest was far bigger than we really needed but it wasn't the size that we was after, it was the private outdoor heated swimming pool and location that won us over.
Day One
Rich was working on the Monday morning, I mean when doesn't he end up working, but he was determined that he was going to be finished in time for us all to pick up the boy from school and head off to Norfolk, which is exactly what we did and set off for the two and half hour journey to our home for the next 5 days. The journey was actually quite relaxed, as luckily, we avoided any traffic jams and had a pretty smooth run. I am sure the in-car picnic I made for the kids helped to keep them going and we didn't really hear "are we there yet" until we were will over the two hours, which meant we could answer honestly and say we wasn't far away.
On arriving at the house, I can only say that the photos really didn't do it justice as it was exactly what we imagined it would be and more. It felt completely secluded and private, which when you live in London and cannot open your front door without seeing lots of people, is exactly what we wanted a complete get away from it all. The normal routine for us when we get to any holiday destination, is to just leave everything in the car and go straight into the accommodation for the tour with the kids. The girly to be honest probably had no idea that this was even a holiday as she is too young, but the boy was making us really laugh as we walked around downstairs as he kept asking who lived there and was obsessed with the fact that we got into the house by opening the keysafe to get the keys out, but this was only until we went out into the garden and they saw the pool. Run for it, the three of them including Belle went straight for it and with a splash Belle was in and everyone was laughing as she clearly didn't know what she was letting herself in for. Rich quickly grabbed her out and she didn't go too close to the edge again while we were there, which was a result for us as dogs really aren't supposed to go into the pool.
We then explained to the kids that it was time to unpack the car, have some dinner and then have a swim but of course then the tears started as the kids were just too excited and wanted to do nothing else but go in the pool. We decided it wasn't worth our while to try and so as we originally planned, but instead we brought in the case, found our swimwear and jumped in for a swim. I mean what a way to unwind after a long drive than by having a lovely swim with the kids in the heated pool. The only issue was that by now it was nearing seven o'clock and we still hadn't had dinner and the kids must have been hungry, although the excitement was probably hiding that. We all agreed to get out after lots of fun and games in the pool, including some inflatables and a mini surf board, to make ourselves some much needed dinner.
I'm not sure if this is something that just happens to us or to all parents out there, but the first night away always has some sort of bedtime drama, as for some reason none of the kids ever seem to be tired due to all of the excitement. It was no different here either and even though the boy had chosen what room him and his sister were going to stay in that night, they both didn't go to sleep but instead ended up sitting up with us in the lounge area until they fell asleep on the sofa. All in all though, it's been such a lovely start to the holiday and the thought of spending 4 more days here without either of us needing to work is going to be amazing.
Day Two
The house is located directly next to Alderfen Broad and Nature Reserve, so we decided to go for a morning stroll with Belle, to ensure she got a good walk before we headed out for a little bit later. The one piece of advice I would give about this walk, is when you are walking in a nature reserve next to a lake so early in the morning, no matter how warm it may feel outside, make sure you wear some trousers as the mosquito's certainly liked me and I got completely eaten by them. No lie, that night I had eleven different bites, whereas Rich only had two and the kids had none. The walk itself though is really lovely, it feels like a real woodland walk until every so often you get glimpse of the lovely broad itself and manage to see lots of different wildlife along the way. The highlight for Rich and the boy though was the frog that seemed to leap out in front of us, as if to say hello. The boy was amazed at seeing an actual Frog, as obviously he is used to seeing pigeons most days at home but Rich was completely in his element and explaining the whole tadpole to frog journey to the boy. He has clearly watched far too many Attenborough shows that at times I think he actually believes he is Sir David himself.
We then set off to meet the one and only Cookie Crumble and her kids, who we have become really good friends with since meeting via Instagram and the plan was to have a bit of a socially distanced beach fun with the kids before then heading back to the house, as we thought it would be lovely for the kids to all be able to play in the pool together as they all get on so well. The beach we went to was called Mundesley Beach, which was really lovely with sand, shingle and blue water, but it was very windy. The weather wasn't going to stop the kids from having fun though and very quickly the boy was in and so was the girly, who we have now realised is a complete water baby, because every time she sees water whether it be the pool, the beach or the broads she just wants to jump straight in. I mean it's brilliant that she has no fear really but at the same time it is a complete nightmare, as you have to have eyes in the back of your head.
The water was coming in rather quickly and we decided it was best to get back to the house before we ended up stuck on the rocks, to let the kids basically run wild in the garden and jump into the pool to their hearts content, which they completely did and to be honest so did we. We then took Belle for a walk around the Broad, where the kids were having the time of their lives with just collecting sticks, looking for more Frogs and generally just being kids and enjoying themselves in the outdoors. When we got back Cookie's husband had arrived and it was time for dinner, that Rich being in his relaxed holiday mode had prepared and cooked a lovely pasta dish for everyone, with a side of Pizza and Waffles for the kids (well mainly for our very fussy little Boy haha). It went down a treat and it really rounded off a lovely day spent in great surroundings and even better company. We said our goodbyes and gave each other virtual hugs and kisses, promising that we will not leave it that long before we all meet up again, as the kids really do get along so well and will create lots of memories together growing up.
The kids were completely tired, you could just tell by looking at them that they have had the time of their lives today but it has clearly taken its toll which for us was a good thing, as it should mean they will have a bath and get to bed really quickly and let us have an evening pretending we actually live in this very lovely country house. Both the kids were out for the count within seconds of their heads hitting the pillow and we just chilled for the evening watching rubbish TV and came up with some plans of what to do the next day.
Day Three
The usual morning dog walk today was to a dog friendly beach that we found online called Waxham, we weren't really sure what to expect, as sometimes the dog friendly beaches aren't always the best but this was pure golden sand for as far as you could see. It was beautiful, even the little sandy path leading to the beach and taking you up and over the sand dunes onto the beach was lovely, it felt like it really had a lot of character. Then, all of a sudden, you could see a few little heads popping out of the water and to Rich's complete amazement, it was Seals and lots of them. They were literally within a few metres of where we were standing and I could just tell that he was made up, he really was like a little kid constantly telling me "look there's one, look there's another one". I have to admit though, that there was just something so special about seeing them in their natural habitat, not behind any windows or in any tanks, they were just loving life riding the waves and seemed to keep coming as close as they could for a look at us.
The kids were super excited to just be at the beach and wanted to dig, make sand castles but as usual we weren't exactly prepared for it as we weren't expecting the beach to be anything like it was. We expected an hour or so walk along and back again, but the kids clearly had other plans. I was off digging with the boy and Rich was by the water with the Girly and Belle, where he let go on the Girly's hand and she went running straight for the water and tripped, going face first into the sea. I am laughing now to myself writing this, but at the time it wasn't funny as she was literally soaked and poor Rich was gutted as it meant we had to cut the time at the beach short, to avoid her getting too cold as it was still quite early. The Girly though, wasn't bothered at all and if we let her, she would have continued to run and jump in without a care in the world but she just wasn't dressed for it and like typical city boys we didn't even think to bring a towel.
Having got back to the house in time for lunch, we all filled our bellies, went for another swimming pool session and decided to head into Wroxham for the late afternoon with the aim of hiring a day boat for a few hours. We struggled to get through to anyone on the phone or online to book a day boat on the same day, so took the chance and it paid off, as we managed to get a boat from a company called Richardson Boat Holidays, which was brilliant at £50 for two hours in a really lovely boat that could have held 10 people, which would make it really good value for money if there was a lot of you. We set off in the boat with Rich at the wheel, but we took it in turns and of course the kids loved sitting on our laps and having control of the wheel, as they really thought they were driving it. We took the boat from Wroxham down to Horning, completed a full turn and came back but not before stopping off at the Ice Cream Boat, yes that's right, an Ice Cream Boat which we all got so excited about and moored the boat up right next to it before getting out to grab our ice creams.
It was such a brilliant day started with seeing Seals at the beach and finished off with boating ourselves along the Broads, where the kids got to see Swans galore which was fun as they sort of chased along next to the boat. I actually think we could quite easily do a boating holiday now, but would obviously need a much bigger boat and one certainly one with a toilet, as two hours on the water is a long time for me let alone the kids. We decided to finish off the day by grabbing ourselves some sweet treats for the short drive back to the house, before having a later dinner than usual and then chilling for the evening before another action-packed day planned for our last full day.
Day Four
The weather when we got up really wasn't looking that good and it had clearly rained quite a bit overnight, so we checked the forecast before getting ready and opted for trousers rather than shorts but still wanted to see Cromer as we planned and have heard so much about the place, from the crabbing off the pier, to the Mary Janes vs Number One's Fish and Chips battle and the beach surf school, so we wanted to at least check it out. It was only a 30 minute drive from the house, so worst case scenario we knew we could just jump back in the car and get back if the weather turned out to be a washout.
Luckily for us though, when we arrived the sun was really breaking through and it actually felt so hot, to the point where we had to tie our jumpers round our waists before heading down towards the beach. The views were lovely from the top and we just knew immediately that this quaint little town and beach was going to be exactly the sort of place we like, the only way we can describe the place is like a much smaller version of Brighton in terms of the town but with very lovely sandy beaches and apparently its own coral reef. The kids had a little go on some of the rides at the seafront, it was only a small little family run few rides but it was enough to keep them occupied and wasn't overly expensive either at £2 a ride.
Having walked up the beach we decided to head into the little town at the top of the cliff to get some Fish and Chips, well sausages and chips twice for the kids and chips with curry sauce for us, as we are so not traditional with things like this and we need to admit that we chose Number One's and it was really lovely. We cannot say it was better than Mary Jane's as we haven't tried it, but I do believe we will be back at some point and if we do, we will try it then and make our decision about who is the best Fish and Chips in Cromer. We then went back to the beach front to head back towards the car, as we only parked for three hours but could have easily stayed for much longer and on route back made a short stop for an ice cream and a bit of stone throwing in the sea.
After dinner we asked if there was anywhere that the kids wanted to go again before we headed home tomorrow and within a split second the boy responded with "can we go back to the beach with the Seals, to see if the hole we dug is still there" which obviously we knew it wouldn't be but they really did both enjoy themselves there, so we ensured that second time around we were going to be fully prepared with beachwear and most importantly towels. On arriving this time, there wasn't another person in sight, we literally had the beach completely to ourselves, well other than the very lovely Seals who were again putting on a show by coming in and out to see us, again much to Rich's delight. The kids had a good paddle in the sea, Belle got to really stretch her legs on the open sand chasing any seagull she saw and we rounded off our final night in Norfolk at our favourite little find in the area.
Day Five
The last day at the house and the check out is at 10am, with a few additional tasks needing to be done to ensure we were properly leaving the place Covid 19 secure for the cleaners to come in and do their bit before the next lucky people arrive. We are really quite over the top when it comes to cleaning places we have stayed in, as we would hate for any cleaner to come in and have a tough job, so we gave the place a really good once over and ensure we left it just as lovely as it was when we arrived. We are also those people who get to the end of their holiday and just want to get home, not because it wasn't good because believe us this place was amazing but it's that feeling of knowing you are going home that makes you just want to get there, so we didn't mess around, we packed up the car and started to head for home at 10am.
The Girly slept basically all the way home and the boy also had a good nap, so they really must have had such a great time to have been so tired. It really was such a lovely break and was exactly what we needed. We have completely fallen in love with Norfolk and will no doubt now be much more frequent visitors, as the mix of countryside, the broads, the wildlife and the beaches are just something we cannot say no to, so expect us to be back soon enough.