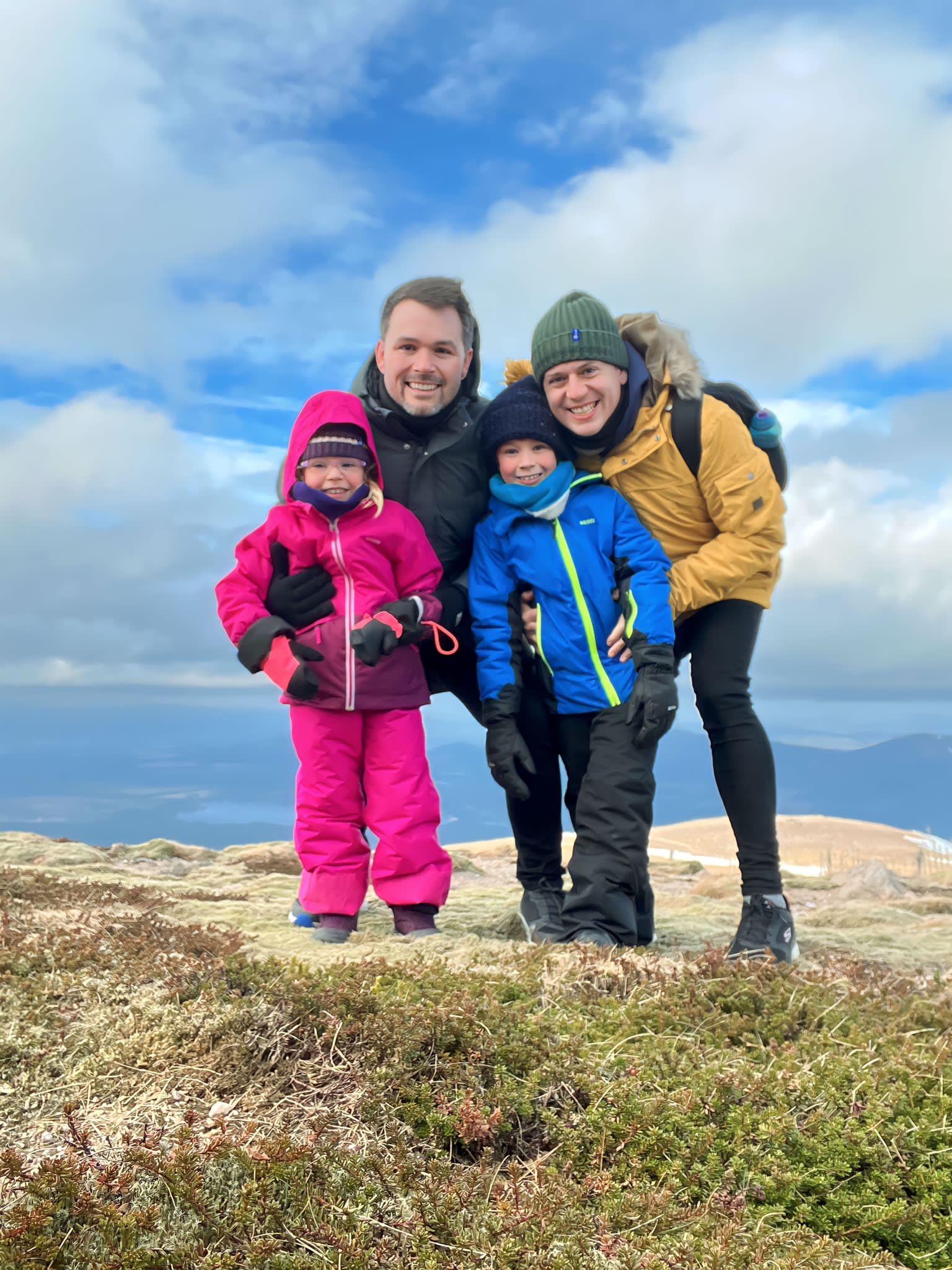 Our Scottish Highlands Adventure
We have always wanted to head up to Scotland and explore the highlands during winter, in the hope to see some snow topped mountains and take in all the scenery and that is exactly what we did. We started by booking ourselves the overnight sleeper train through Caledonian at https://www.sleeper.scot opting for two of the adjoining family rooms which are standard rooms with two bunk beds in each, with a sliding door in the middle. We really enjoyed itand the kids absolutely loved it. There are other rooms available including club rooms with a shower or double rooms with a shower, but that would have meant we would be dealing with the kids constantly wanting to swap rooms as those rooms do not have connecting doors. If it was just the two of us or travelling with older kids who would cope better, then we would certainly consider the other rooms as they were super spacious but that doesn't mean the rooms we had were not good enough, as they really were perfect and the beds very comfortable and the train moving along seemed to rock us all to sleep nicely.
The next and most important thing was to decide whether we wanted to hop around different accommodations as we go or whether to have one base to call home for the week and we are so happy that we chose the latter, as we ended up staying in the most wonderful cottage on a farm just outside Inverness city centre with amazing views, its own private hot tub and seven very friendly Alpacas. Honestly everything has been thought of here from the tasteful decoration, comfortable furnishings and the small details like towels and flip flops provided specifically for use with the hot tub. We have already reserved our dates for next year, but please do check out The Cottage at https://abnb.me/jkWfkxqPwxb and believe us you will not be disappointed.
The last part of the jigsaw for a successful tour trip of the highlands was a car to get around and we went for a Ford Ranger Raptor from https://focusvehiclerental.co.uk which is amazing and really added to the fun as it felt like we were driving around in our own Jurassic Park movie in this. The truth is that based on most of the places we visited you would be fine with a more standard car (weather permitting) but we really wanted to feel like the car we had was powerful enough and safe enough to stick to the road when touring around, which turned out to be a very good decision when we ended up off road and lost for about fifteen minutes and had to reverse about a mile back due to coming to a dead end. The best part about this company was that they met you at the platform as you got off the train with the keys and you simply had to park the vehicle back up in the car park on return.
We enjoyed our trip so much and felt like we have only just scratched the surface with what Scotland has to offer and will certainly be going back to see some places we didn't manage to get too, but also to visit some of the places for longer, such as the Cairngorms mountain for skiing and to try to see the wild reindeer herd, as unfortunately the walks with the rangers for that was already fully booked by the time we arrived. The list of places we still would like to see would go on and on, but overall we had a great time seeing snow topped mountains, climbing them, seeing dolphins swim in the wild, chase waterfalls for a day, pretended to be farmers with the Alpacas and even managed to see the northern lights.
Below is our daily itinerary with as many links for places as we could find, to help you create your very own Scottish tour:
Day 1:
9.00am Arrived in Inverness
10.00am Set off for Loch Ness Urquhart Castle, about 30 mins drive along the most dramatic scenery directly next to the Loch Ness, where the kids loved looking out of their windows to try and see the Loch Ness monster Nessie.
2.00pm After a bite to eat at the café at Urquhart Castle we set off for the Fairy Glen waterfall, which was a lovely woodland walk in a place that you really could imagine fairies would live. The waterfall itself was lovely and you could quite easily stand beneath it but recommend wellies and waterproof clothing. So much fun had here, but a shame the second and possibly even bigger waterfall was closed off due to footpath being repaired.
5.30pm We headed for the Cottage to check in which was actually available from 3.30pm but we were too busy eating a quick Pizza Express in Inverness City centre on the way back. George the lovely host met us on arrival, showed us around and explained how everything worked and even offered to meet us at 10.00am in the morning to feed the Alpacas which obviously the kids we super excited about.
8.00pm We all got changed into our swimwear and headed into the hot tub for a splash, before getting the kids to bed and chilling for the rest of the evening watching Netflix on the guest account provided.
Day 2:
10.00am We met George and fed the Alpacas which as you can imagine was such a joy, the kids loved it and so did we. He came fully prepared with food for the rest of the days for the Alpacas so we could feed them every morning. George even offered to take a couple of the Alpacas for a walk later in the week, which we arranged for Thursday.
12.00pm We then headed out for an adventure at the Cairngorm mountains, where we was all hoping to see some snow and within about 20 minutes we knew that would be happening as the mountains all around we snow topped which got everyone excited. It was about a 55 minute drive to the base station, which is where we got our tickets for the funicular to take us to the top snow zone. If you go to the Ciairngorms, we would highly recommend this as it was the highlight of the week for the kids to be so high up and in the snow.
4.00pm On route down we spotted the most amazing looking woodlands, but it wasn't just a woodland it was a woodland walk on sand, that lead you to Loch Morlich and the most stunning beach surrounded by the snow topped mountains. We can imagine this would be an amazing place to visit through all the seasons, as looked great for watersports and while we were there we saw some very brave people heading in for a cold swim.
7.00pm We arrived back at the Cottage having grabbed a takeaway on the way in, before rounding off the day with a dip on the hot tub which became the tradition every night.
Day 3:
10.00am We started the day with our farm duties by feeding the Alpacas, which was honestly the loveliest way to start your day.
11.00am We headed to the Pink House (which we have been told was featured in TV show the Traitors), which was basically a 2 mile walk through woods with Deer, then passing a wild boar farm before arriving at Loch Glass which is simply stunning to see and there was literally nobody else around for what felt like miles. The Pink House itself was literally just that, it wasn't a place to expect ice cream and cakes, it was a closed Pink Castle looking house set in amazing surroundings. We really enjoyed out time here, as we made it an adventure to search for and when we found it the kids were sprinting off to be first there.
15.00 I had done some research before going to Chanonry Point, which is the place in the UK where you are most likely to see dolphins in the wild, and it was clear that the best chances was to arrive about an hour after low tide, as this would be the feeding time but we knew it was very unlikely. But it was clearly the start of a very lucky day, as we managed two separate sightings which was very exciting and quite emotional.
17.00 We headed back home to the Cottage as our day's adventures were complete, cooked our dinner and enjoyed an earlier than usual hot tub, thinking about getting ready for an early night when we received a message to say that there was a chance of seeing the northern lights Aurora as it was on high alert. We spoke about whether to take the chance or not for about ten minutes and decided to all get dressed and go for it.
8.30pm We drove about 35 mins to a hotspot known for seeing the Aurora at Nairn beach and as soon as we arrived you could see it slightly, but it was very cloudy, so we decided to go to the shop to get some drinks and come back to have one more look and there it was, the amazing green dancing northern lights. Our day couldn't have been any better, we had seen wild dolphins and the norther lights, I mean it's what dreams are made of.
Day 4:
12.00pm We had a much later start as we had a very late night due to seeing the northern lights, so stayed in our pyjamas until we had to get read to meet George (the farmer as the kids called him) to walk the Alpacas. I am not sure if this is something that always happens because the Alpacas are quite new at the farm, one was only six months old and two were currently pregnant. We only took two of them out of their field for a walk and they clearly loved it just as much as we did. It was Lew's highlight of the holiday, I think the farm house and Alpacas was really his favourite thing as he looked forward to seeing them everyday.
14.00 After some lunch in the cottage we planned to go on a waterfall hunt, where we planned to try and see three different falls, starting at the furthest which was an hour driuve away and then working our way back. If you love walking outdoors, taking in the lovelyt fresh air, the birds, suspension bridges and viewpoints then this really is a must do trip if up in the Highlands. We started at Corrieshalloch Gorge with it'samazing suspension bridge overlooking the waterfalls, which is then a short walk to the overhanging viewpoint which isn't for the faint hearted but was a magical experience and well worth the initial jelly legs for Lew.
We then drove about 30 mins back to Blackwater Falls, which had a very lovely old bridge and was probably the fastest gushing falls of them all. All very picturesque and well worthy of any social media profile.
We then drove another short 5 mins along to Rogie Falls, which is apparently known in the summer for being one of the very special places to see Salmon leaping out of the water upstream. It was lovely here, one of our favourite places to walk around and explore, to the point we nearly got stuck in the forest as it was getting dark. It has another very lovely suspension bridge here, not as scary as the first but amazing views again.
Day 5:
10.30am It was our last day today and so we wanted to try and fit in as much as possible before heading back the station to drop off the car and decided to head as far west as we could aiming for Ben Nevis. Our first stop was Fort Augustus, which was about 45 mins and was basically at the start of the Loch Ness. It was charming little town, the most amazing set of locks and bridges, fish and chip shops, quaint pubs, ice cream and gift shops (which is where we got our Nessie soft toy souvenir).
12.30pm we head from here all the way to Ben Nevis range cable car, which was about another 35 minutes away and was so worth the drive as the cable car up the side of the mountain was such an experience. It only takes you halfway up and then you would need to use Ski lifts etc to get up to the slopes, but we walked to the viewpoint in the very windy conditions and then got ourselves a much-needed Irn Bru in the highest bar in the UK with view across the mountain range. It was one to the nicest ways to round off our trip.
17.00 We headed all the way back to Inverness to drop off the car at the station, which at a leisurely pace and short stop off for a wee was 90 minutes. We then headed around the city to cross a few more bridges, walked round Inverness Castle which was undergoing renovations and grabbed some food on route to getting back on the train to get some sleep, before arriving back in London.
We had the most wonderful time and so many of you asked for an itinerary of what we got up to as it looked like a trip you would enjoy, so let us confirm that you would not regret going to Scotland for an adventure holiday, it was brilliant. Please do comment and ask any questions and we will do our best to come back to you with the answers or at least point you in the right direction.